Internet Tab
BOOKMAN Desktop Manager provides you with links to the Internet from where you can download more eBooks, manage your eNewspaper subscriptions, register your product and so on.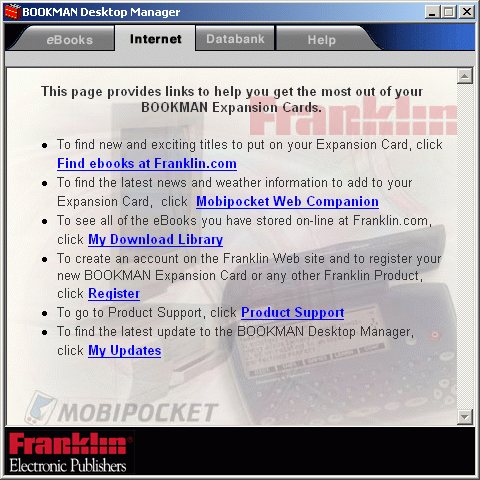 Click the links to do the following:
Visit Franklin's eStore where you can purchase titles to send to your Expansion Card.
Launch the Mobipocket Web Companion to manage your eNewspaper subscriptions.
Visit the Library of all the eBooks you have previously downloaded from www.franklin.com.
Register your Franklin product(s).
Access Franklin's Information and Support page where you can get product information, reach customer service and so on.
Check to see if any updated versions of the BOOKMAN Desktop Manager are posted. You can download these for free.